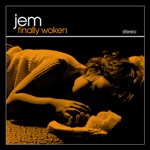 This is
Jem
, my new favorite artist/CD. You can listen to the entire CD at her website, which I think is GENIUS, because when you're poor like me, you can afford to get maybe 6 CDs a year. I am so leery of buying new CDs just in case there's only one good song on there and the rest suck. But when you can listen to the whole CD, then you know you're making a good investment. Hear that, record companies?? So I bought it this week.
Monday Darien has his "kindergarten roundup" in the late afternoon, we'll meet the teachers and see the classrooms. Monday night I have to drive 100 miles to sing with Civic Chorus, I will get back late.. ugh. Tuesday I get my
Mirena
! I can't wait to be infertile! Let's hope my cervix cooperates, otherwise
Deb
won't do it and I'll have to go back when I get my period. And who knows when THAT will be?
Our internet access is majorly sucking (we have wireless). And the ISP is not really trying to figure out what the problem is, so today, we are switching providers.