This CD -
"Wicked" Original 2003 Cast Recording
- has taken top spot in my car. I think I'm obsessed with it! In a good way. I just finished reading the
book
upon which the musical was based. It all started when I got the latest
Lorie Line
book,
Now and Then
, for Christmas from my mom, and two pieces from "Wicked" are in it. I fell in love with the music with the first measure of "For Good".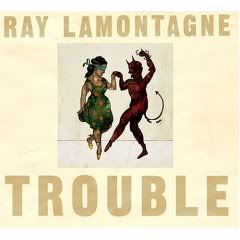 I just LOVE this CD.
"Trouble" by Ray Lamontagne
. There aren't too many tunes on it I don't like! My favorite is "Shelter", but I also love "Trouble", "Narrow Escape" and "How Come". It's one of the few CDs I can listen to, front to back, without skipping any tracks or getting tired of it. A review done in O Magazine said at first she (I can't remember the singer who reviewed it) couldn't tell if the singer was male or female, white or black, and she liked that. I agree. If you liked the Amos Lee CD below, you'll love Ray.