I give you my completed Jaywalker sock, in Socks That Rock yarn, colorway Xmas Rock:
There's some crazy flashing/pooling, but I don't care, it makes them unique. The cool thing is, when I do the second sock, it'll look nothing like this one. Here's another shot from a slightly different angle. OK, I really just wanted to show off my sexy lower leg/ankle/foot. Rrrawwrrr.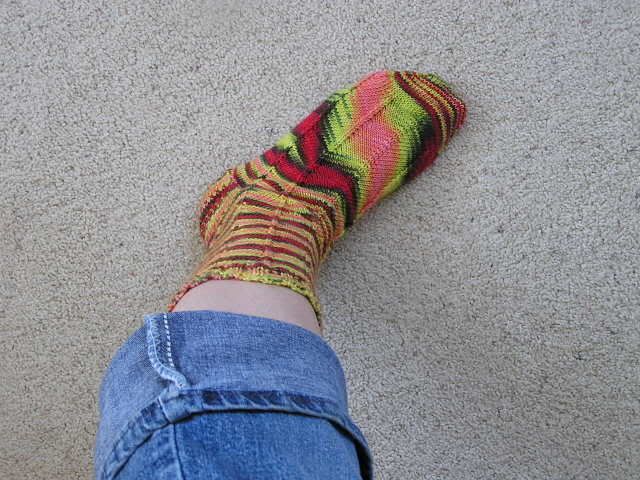 I'm scared to death that I won't have enough for the second sock. If you're a fellow socknitter and you have a little extra Xmas Rock hanging around, email me. Call me cheap, but I just don't feel like spending another $23 on a toe's worth of sock.
And this is what I made on Monday Night Out with The Girls: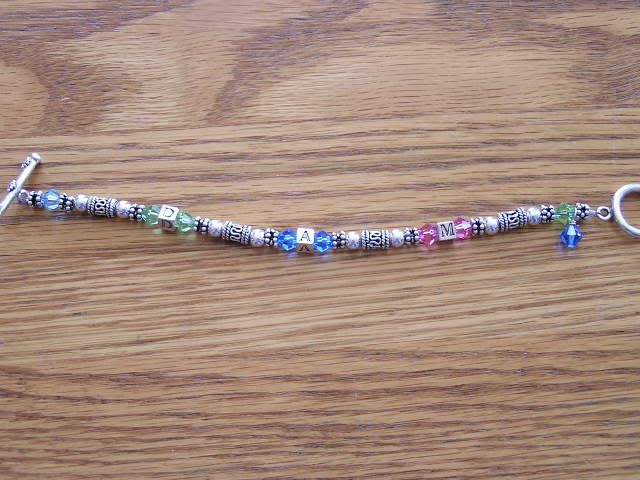 We went to
Urban Girl
for a little jewelry-making fun, and then margaritas afterward. This is a mother's bracelet - my birthstone (aquamarine) is on the far left, then two peridots surrounding the letter D, two sapphires surrounding the letter A, and two uh.. pink stones (tourmalines?) surrounding the letter M, then Dan's birthstone (peridot) and our wedding stone is the dangle (sapphire). It's my DAM bracelet!